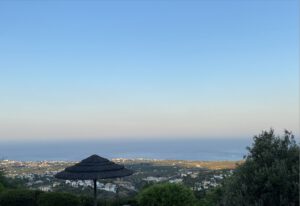 This month I was lucky enough to travel Cyprus with my family. Especially in Covid's limiting times, coming together seems more valuable than ever.
Getting There
Cyprus is well connected to Europes main cities, as well as to Asia and the Middle East. The flight from mainland Berlin takes 3,5h, 4hrs from Frankfurt and 5hours from London. Keep in mind that as a tourist you can only visit the south side; the political situation only allows Cypriots to enter the northern side at the moment. To travel to the country tourists need a flight pass, which you can get by registering on this website up to 48 hours before arrival. To get the pass you'll have to agree on random testing. Upon arrival our entire plane was pulled out for a random Covid test right at the airport. On iPads we had to enter our data. Unfortunately nobody could tell us where and how this data is stored and when and if it will be deleted. Then we were given a number and the somewhat unpleasant test, in which swabs were taken from the throat and nose, went quickly.
Where to Stay
Cyprus is for every budget, ranging from two to five star hotels like the Elysium perfekt for those lazy days at the sea. To be honest, we were quite relaxed and hung out a lot at the sea or at our airbnb. But there is so much to see and Cyprus is far more than just a sun and sea destination, so I recommend renting a car. Cyprus is dotted with beautiful airbnbs, I loved our 'Villa Ara' a beautiful place in the Kamares Village right on the hill overlooking the city. Less than ten minutes by car from the city of Paphos, the villa complex is situated on hills and close to St. Neophytus Monastery, which dates back to the 18th century. Each villa is built according to individual wishes, stone, wood and the typical round arches give the original character. The private swimming pool, barbecue areas and sun terraces provided the level of relaxation we were looking for. I miss the view over the calm sea in the morning, the endless sunset in the evening, and the starry night sky melting into the sparkling lights of Paphos.

What To Wear
Since we had perfect weather with 32 degress all the time, I opted for a lean wardrobe. Oversized shirts and basic tops matched with silky flowing pants like my favorite from Les Coyotes Des Paris. I also packed my organic silk dress from serenity wear in color mango. I love it! And when I wasn't running around barefoot I wore my Havaianas – a true vacation staple, my Ginza Sandals and a pair of high heels from By Far.
Shop my Holiday Wardrobe

What To Do
At the heart of our trip was the time spent together and valuable conversations. To us far more more important than excursions and sightseeing. That's why this blog post is not full of the most popular tourist spots, but I'll share the places that touched me the most.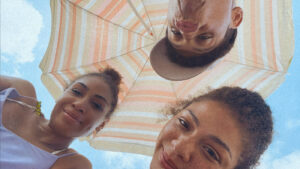 Cyprus enjoys more than 340 days of sunshine a year, the stunning Mediterranean island overflows with rocky coves and pools, golden sands and beautiful natural pebble beaches. You'll be enveloped by the scent of flowers and the beautiful bougainvillea that grows here abundantly. The Island is a haven for any (nature) lovers and it is particularly fitting that it is also the birthplace of Aphrodite, the ancient goddess of love and beauty. Steeped in legend, myth, beauty and romance there are many opportunities to dive into the ancient stories and wander between Greek temples and Castles, like the ones in Paphos or Kouklia. I am more a nature lover than a fan of excursions but exploring Cyprus checkered past, a mix of different civilizations and cultures was very exciting. On one of our first days we visited the Tombs of the Kings, an important archaeological site in Cyprus with a breathtaking sea view, which has been on the UNESCO World Heritage List since 1980. The monumental underground tombs are carved out of the rock and date back to Hellenistic (323 v. Chr. – 30 v. Chr.) and Roman times (27 v. Chr. – 284 n. Chr.). Instead of kings, high-ranking officials and aristocrats were actually buried here, but the size and magnificence of the tombs – some of them decorated with doric columns – gave the site its grand name. Some of the tombs imitate the houses of the living, with the burial chambers opening out into a peristyle-like atrium.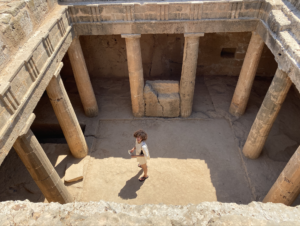 The Island has a hot dry summer and the second largest city is Limassol, which we visited for a day. The palm-lined promenade reminds a little bit of Miami and the water is clean, shallow and you can swim good lanes for a few kilometres. (Afterwards we had a dinner at La Isla Beach bar right at the sea.) One notices the effects of Covid, scaffolding everywhere, many abandoned building projects, closed shops and overall the town was quite empty.
A must see is Aphrodite's Rock, the godess' mythical birthplace, they say if you swim around it three times you'll gain eternal youth. I didn't swim around it but I reeeeally enjoyed the natural beach. The big rock on the beach is easy to climb. As a reward you get a beautiful view of Aphrodites Rock and the surrounding sea.
I also loved Latchi which we visited for an afternoon, a relaxed little town right by the sea, where we were blessed with a phenomenal sunset. Here I have linked some more tips, some I got from the community. If you should also travel to Cyprus, I recommend to read the reviews to see if something is resonating with you.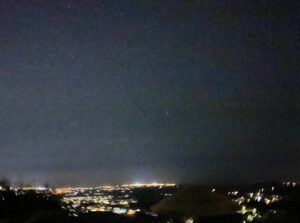 Also feel free to check out my Instagram I shared quite a few impressions there.
Hope you enjoyed this blogpost! x julia