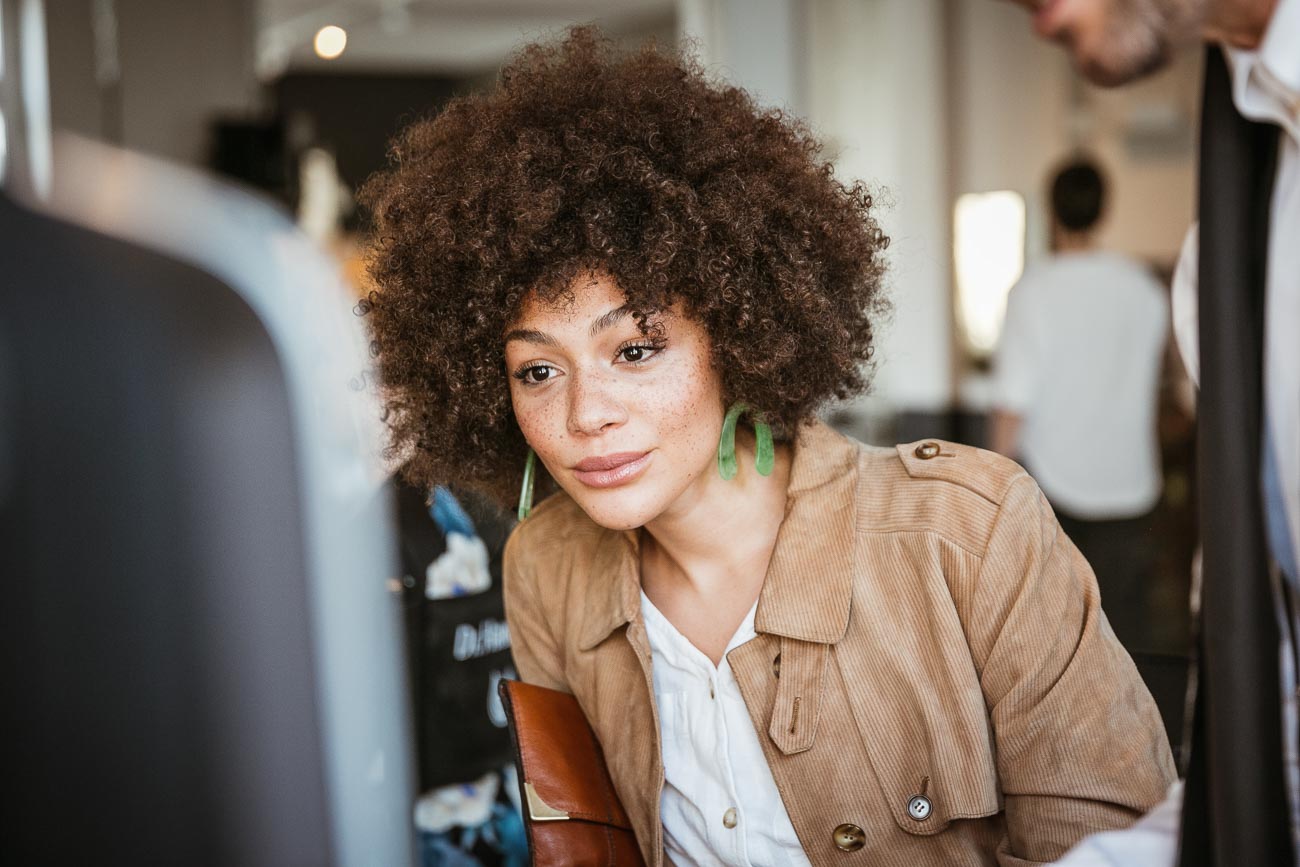 Interviewing Emma Lindström
Advertising. This article was written in friendly cooperation with Dr.Hauschka.
For Gallery Weekend Dr. Hauschka launched the Purple Light Edition in collaboration with Swedish artist Emma Lindström. Makeup meets Art. The Eyeshadow Palette, the matching Eye Definer, the shimmering Teint Powder and the Liquid Lip Colour bear the signature of the Swedish artist. I had the honor to interview the painter from Gothenburg and talked with her and her husband Richard about art, her biggest fear and why we should just create. So let's listen to what Emma has to say. I hope you will feel as inspired as I did after meeting Emma.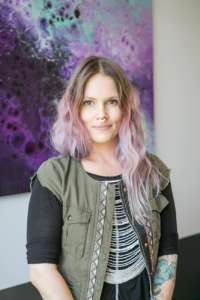 Name: Emma Lindström
Residence: Gothenburg
Occupation: Artist
Your art is?
Abstract and colorful.
Your favorite place?
My studio. It's my world there.
Love or Art?
Love and Art.
Which dish could you eat for one week?
Tacos.
You and your boyfriend just opened a gallery in Gothenburg. What is the main goal of the gallery?
We want to spread art to the people. Find artists that we love and we want people to see and feel joy and love. I also get to meet my friends there. In the past, I had my studio in a small space you could not easily visit. Now it is nice to have an open space people can come to and say Hi.
The most inspiring person you ever met?
I don't know. They are so many. Mostly friends and people I know that inspire me in so many ways in life, who spread love and compassion. But it can also be a small moment, an interaction with someone for example on the street or in the store that really inspires me. I am inspired by people, it is not a specific person.
Richard adds: Emma can be very inspired by just seeing someone's presence without even talking to them.
What is the most challenging part of being an artist?
Not knowing what the next step is or where the next rent is coming from.
You just need to have faith that it is going work out. It is a wonderful thing to feel, but it is also very scary sometimes.
It is an everyday practice to keep calm and trust it is going to work out in some way.
What is your biggest fear?
Not being able to paint and express me. Because a couple of years back I couldn't paint because it was too much with regular work and everything. And I went to the bottom. So now I am doing everything I can, not to be there again. So I am just going to paint and let it out. Because if I can?t let it out, I am cramped inside. So I think That's my biggest fear.


How do you handle negative feedback especially if it hurts deep down in your soul?
At first, I get sad. But I am trying to trust my intuition and find a place in my heart where I can relax and be at peace again. I definitely reflect what the person says. And try to move forward.
Richard: Emma doesn't compromise a lot with her art. Because she always does what comes from the inside. If I come with a tip or criticism, she never listens to that. She has to do what comes from herself from life, from her soul.
What do you like the most about the Purple Light Edition?
Everything. It was such a nice experience. And it was so wonderful to paint something from carrying vision to the color palette. Also besides blue, violet is my favorite color, so it was very easy. It is a good match.
Favorite products: Eyeshadow Palette 01 & Eye Definer 07
What is the coolest art tip you would like to pass on to my readers?
Just create without overthinking. Just create for yourself and never think about what other people might say.
Just do it for yourself, for your joy, and I promise it is going to be super because it comes from an honest place.
Thank you so much, Emma & Richard for sharing! 🙂